So, what is there to say about Mid-Atlantic Mod? Too much, apparently! I kept finding more things to say, and since this is my blog, I'll say them all!
Here's a picture of the CJMQG members at the retreat, minus Rachel and Sonia. We are just too cute! From the left: Neva, Tatiana, Jess L, Robin, myself, Christina, Laura (back), Amy (front), Kathleen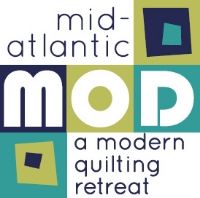 Mid-Atlantic Mod was a sold-out, four-day modern quilting retreat made up of the Philly, Central Jersey, and DC Modern Quilt Guilds, as well as other quilters within the area (65 attendees). And it was totally awesome. Driving to Lancaster took most of us 2 to 2.5 hours, so it was super convenient. I have to admit that if I only can afford to go to one event next year, I would be more than content just going back to this retreat. It was definitely the most fun I've had over a four day period in a very long time, and it was so exciting to meet Instagram friends and new friends, hang out with old friends, fabric shop, discover Lancaster, and sew a whole lot.
Thursday, the first day, was c.r.a.z.y. I think it took a half hour to unload my car because of all the sewing stuff I brought... whoops. No regrets, though! This includes my entire AMH stash and any neutrals/solids/low volumes/tone on tones I am considering for my medallion quilt... I don't take prisoners.
I used a beautiful Chicopee pillow from Life's Rich Pattern all weekend - it's one of our favorite pillows in the house :)
I finally met Liz! Liz (@beadqueene on Instagram) found out about the retreat from reading my blog. We've been emailing/Instagramming since she told me she was going, and we had the best time together! Here we are with our friend "Crafty Festa" Sara (@craftyfesta)!
Many of us were pretty loopy that first night. The bar had drink specials for the quilters: Round Robin, Seam Ripper, and Pinking Shears (lols). There was a scrap bin to throw your scraps in and pick out new ones and we went a bit crazy...
On Friday, some of us took a roadtrip to Burkholder Fabrics. Never have I felt more like a kid in a candy store. So. Worth. The. Trip. We could have also trekked to some other well-known fabric shops, but we wanted to sew more than shop all day. I know some people who shop-hopped and got some crazy awesome stuff all over! I'll share my haul on Sunday for Sunday Stash. Here's a great picture of us after Burkholder's:
VICTORIOUS. From left: Rachel, Liz, Jess, and myself - photo credit: Rachel
We joked about wearing "our nice sweatpants" on Friday because there was a wedding reception happening right outside our conference room. Like, you would walk out to run to your hotel room or go to the bathrooms or whatever, and you were in the middle of a reception! We must have looked pretty hilarious. We also had a fun mixer that we have our wonderful sponsors to thank for (thank you!). It was great talking to other quilters and meeting new people, but after a while a bunch of us really just wanted to sew ;). We all sewed the night away afterwards!
Saturday was the day most people had one (or two or three or four) classes. This made it a bit difficult to go anywhere with friends because of schedules, but we made it work. I only took one class - Foundation Paper Piecing - and I haven't finished my block yet :P. Jess *says* she offered the class to help me, and of course I was ten minutes late (Neva, Rachel, Nicole, Liz, and I had a really relaxing lunch and did some MORE fabric shopping downtown and we cut it a bit close). Anyway, I now understand the general process of paper piecing but finishing my block was not a priority once the class ended (I kind of missed one piece and got frustrated and moved on to finishing my Radiant Orchid coasters). When I'm ready, I'll take it back out again and have Jess help me more. I promise I'll post it here, too! I might also just dive into a simple paper piecing project now that I get the gist of it.
On Saturday night, we had a pajama party (out in the atrium there was a big dinner, so again, we looked a bit out of place!). The tote bag swap was hands down the best part of the night. Quilters made tote bags using Essex Linen from Robert Kaufman (thank you!!!) and places them in bags for disguise. The organizers handed out the bags at random and it was like Christmas morning. Everyone was SO excited! I know of a pair of ladies who received each others' bags!
My bag was made by Heather (@heatherkojan), and now I have a new friend! She is amazing! OMG - OOP AMH and the viewmasters by Melody Miller - I was overwhelmed. Thank you Heather for making my weekend! P.S. - The lady who won my bag thankfully LOVES purple - yay!
Sewing-wise, I got a lot done, and so did many of my friends! You can see what I worked on here. And the giveaways. Wow. We had a ton of sponsors thanks to the hard work of Jess, Katie, and Andrew. Thanks to all of you for everything!
Andrew, the president of the Philly Guild, won the Lizzy House Soak nail polish (lol) and he knew I was dying to get my hands on some, so he gave it to me!! <3 I kind of look a bit confused here, and my hair is a mess, but you get the idea! He's a riot. And we worked on AMH feathers together. Thanks Andrew! Looking forward to working with you in the future as presidents!
We had a wonderful weekend, and the next one can't come soon enough! There was a lot of free time to do what you wanted. I need to remember my bathing suit next year for the awesome pool! I hope you'll consider registering next year if you are from the mid-Atlantic region of the US. And even if you aren't... well, you could fly here... ;)