I've been invited, tempted, and finally just given into joining the Lovely Year of Finishes with
Melissa
and
Shanna
(
join us
?), and my friend
Lynne's
Year of the Finished Project. It's a worthy cause - set a goal, work on it, and finish at the end of the month. I need to set goals and follow through - something I'll be blogging about more this week.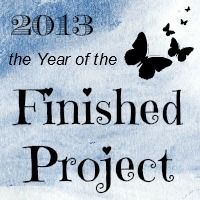 My goal for January is to get a quilt top out of my strip blocks. This is the quilt I'm writing a tutorial for, so I would like to get it done this winter! The blocks are almost all finished, so the rest should be fairly simple... but we'll see if I can do it WHILE writing a pattern for another quilt. It's on. :)
Short post for today - it's been a busy day! And a sad one - another quilt given away. :( But I assured my niece that I'm glad it's going to a special home.