Never before have I sewed Halloween costumes, and never before have I worn 2 costumes in 1 day. This was certainly a special Halloween!
Costume #1:
As an elementary school employee, I see the effects of Halloween 3 weeks before. In short, it's a big deal! Our staff theme last year was holidays (Kindergarten went with Halloween, so I decided to forgo spending money and cobble together a witch costume). This year, the theme was food, and my friend found a
cupcake costume tutorial on Pinterest
for us to follow. So, several of us became cupcakes for the day! The kids
loved
it - though one thought I was a marshmallow and another said "I want to EAT YOU!" Not creepy or anything... lol!
The costume took about an hour and a half to make, using the tutorial. I spent most of that time safety pinning my carefully-chosen scraps to a white shirt and the polyfill around the cupcake. Hence why I am sharing it on the blog - save your small scraps for Halloween! ;)
Grand total money spent on this costume: $1.70 (posterboard - everything else I had on hand already - it pays to be a crafter, right? Right?). I've dismantled the whole costume to reuse in the future. How's that for recycling?
Costume #2:
Like many other families, my family was enchanted by the Disney movie
Frozen
this year. A few months ago, my younger sister and I decided to dress up as the sisters Anna and Elsa. I still wanted to participate in my school's theme costumes, so it came down to making two costumes.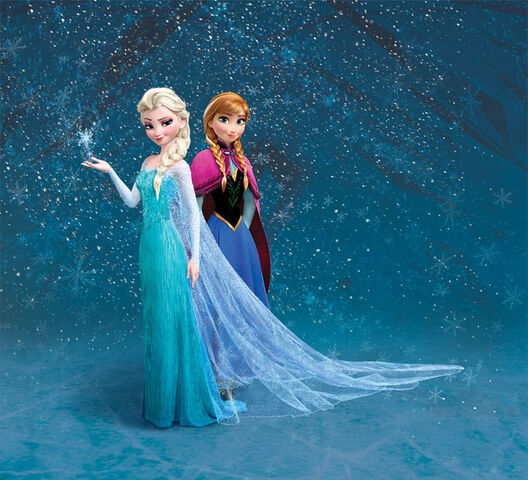 My Elsa costume was in no way complex and just for fun (you should see some of the crazy amazing cosplay blogs out there,
like this one
). I wore a blue dress that I've worn many times; it has a distinctly Scandinavian-like braid down the front. I topped it off with a blue cardigan, tights, silver shoes, and my favorite sparkly snowflake jewelry. I bought a cheap wig on Amazon (I looked all over to avoid spending $20 on the wig alone). While it didn't really cover all of my hair and it wasn't a legitimate Elsa wig (my sister braided it), it did the job. If anything, I learned that short bangs don't look very attractive on me. :D
I bought shimmery blue tulle-like material and easily made a cape, using silver ribbon and
this thorough tutorial
. It took all of 15 minutes but next time I'd buy the material sans glitter! Total cost: $17 (much cheaper than buying a "real" Elsa costume).
My sister's costume was a lot of fun to work on. We found clearance shirts (ruffle no-sleeve black, long sleeve light blue) and a 4X blue skirt ($3 at Walmart!) that I safety pinned to make (a lot) smaller. I bought pink polyester for the cape (again, I used
this tutorial
). My favorite part was having a brain blast and using some of my crazy machine stitches to add detail to the hood!
I sewed some gold trim (binding) on her shirt, and made a gold sash from scraps from my fall wedding table runners. Finally, I used puffy paint to add the flower and vine
rosemaling detail
to her skirt.
Total cost: about $30 (still cheaper than buying an Anna costume, and infinitely more fun). It's also completely re-wearable, right down to the cape, which Ris has taken to wearing around the house :D. Yes, she's almost 18 and she has no shame.
The Olaf pumpkin (painted by Mike and I) accompanied us on the driveway. The kids who stopped at our house to get candy loved everything about our setup! We might have even sung a little...
All in all, I'd consider this Halloween a great success! Thanks for sharing with me in my somewhat-garment sewing adventures... maybe I'll actually start and finish a real garment this winter!