As I said in my last post, with the Dresden plate, I ended up making more blue scraps than I started with!
But that's okay... because I got a lot of use out of my blue scraps, with this and the mug rug I made.
I would take a picture of the scraps I have left, but I am back at school
Next month is red, yay! That means when I'm home again, probably in two weeks, I'll be making another Dresden plate for the wedding quilt!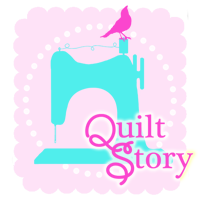 I'm linking up to Fabric Tuesday over at Quiltstory for the first time! I love reading their blog and know I will be linking up more as I sew more frequently in the future (aka especially spring break and the summertime!)
...I'm so ready for February :) Although, I still need to find a small Valentine's Day gift for the fiance... any suggestions? Men are so difficult to buy gifts for! I COULD make him something... hm... now I actually have an idea but I won't post it here because he might see. I'm still taking suggestions!