I quilted two quilts over the long weekend, and now I have to bind them! Sweet. I'm excited to finish two huge projects!
Binding is one of my least favorite parts of sewing - I won't sugarcoat it! I machine bind everything now, which is a huge time saver (I learned using
this tutorial
by my girl Ashley). It used to take me at least 4 hours to hand bind a quilt (I did that for about 3 years). While I do enjoy sitting down to do handwork, it became too much (and it hurts my hands). I'm not just as skilled sewing by hand as I am by machine, so I've finally perfected my machine binding (probably not to *show standards* but to my standards!). Many quilters find pleasure in hand binding but I am NOT one of them. :)
One part of binding I DO enjoy is choosing the fabrics. I've
played with snippets of rainbow
in my binding (above - my
Home
quilt) and I love a good scrappy binding. I've generally matched binding to sections of a quilt but not as amazingly as Debbie
(have you seen her latest beauty?).
Sedona
- binding matches each color section
Other WIPs: I'm also sewing a lot for my Secret Sewist partner for the Mid-Atlantic Mod retreat (2 weeks away!!). Each person who signed up (there's 37 of us!!) received a secret partner who we have to make one gift for for each of the three mornings we are at the retreat. On the last day, we reveal who we are. I CANNOT wait to share with my partner what I have planned for him or her. I. can't. wait. To sum up: I've been sewing a lot more, but I literally can't show a thing until all is revealed at the retreat.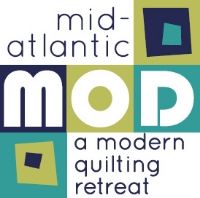 On another note, April, May, and June are VERY busy sewing months this year for me - it's going to be amazing! Besides guild duties (newsletter writing, meeting planning, and setting up some great events to come), I'm speaking at two guilds! I'm currently perfecting lectures for the
CAMACO guild
in Cape May, NJ (on Modern Quilting) and
LIMOD
in Long Island, NY (on Improvisational Piecing). :) I'm also prepping for my shortened Orange Peels and Improv class at Mod, and tweaking my full class
to teach at Pennington Quilt Works
again in July. I'm hoping to set up a couple more classes and lectures this summer, too!
More projects to come: I'm testing a quilt for
Jess of the Elven Garden
, sewing up a quilt for
Heidi of Fabric Mutt's book blog tour
, and participating in three mini quilt swaps on Instagram (my first ones - Anna Maris Horner, Cotton + Steel, and Lizzy House). I have a feature coming up on
Sew Mama Sew
. Plus, it looks like there might be a quilt-a-long here and
here
in the works in late June/early July - start saving your selvages... that's all I'm saying. ;)
My size ten foot compared to my selvage basket... it's time to dive in.
So, back to binding. Tell me... do you love to bind? Are you neutral? Hate it with the passion of a thousand burning suns? Do you prefer by machine or by hand? Inquiring minds want to know.