I'm almost on my way down to Washington, D.C. (where it is inevitably even hotter!) to visit my uncle and see some sites and musicals! In addition, I'm MORE than excited to see the
AIDS quilt
on display on the National Mall (if there's time I may even volunteer). I'll have plenty of pictures to show when I get back this weekend!
Finally, today, I am one of two tutorials being featured in Sew Festive Handmade's Christmas in July. Mine is for
Simple Patchwork Quilted Christmas Cards
- take a look over at Rebecca's blog
HERE
! One of her tutorials will also be up today.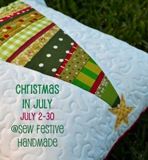 Keep checking back every Monday this month for Christmasy tutorials, and link up at the end of the month for the chance to win prizes! All other details over at Rebecca's blog - just click the button. Hope you enjoy the tute and let me know if you have any questions!